All posts by: Lucia & Francesca
Hi Everyone!
Firstly I would like to thank you for the amazing response I got for my FOLK QUEEN!
I am still recovering…
But today is not about the FOLK QUEEN, but my first ever colorway … the EASTERN JEWELS !
I cannot believe that  it was exactely 3 years ago! I have to say it has been a fantastic experience and over the years I have seen countless version of my Eastern Jewels. As you probably already know the booklet for my colour version was available only as a part of the yarn pack. That was how, Stylecraft and Janie Crow had decide originally to promote and distribute the colorway.
BUT… the GOOD NEWS IS…
I now have exclusive  permission to sell the booklet of the Eastern Jewels as a PDF!!!
I cannot thank enough both Stylecraft and Janie for this opportunity because still now, after 3 years, I get emails asking if it is possible to have the PDF of my colour version.
So now you can download it on my raverly store or here for the price of £1.99.
Eastern Jewels Lucia's Fig Tree Colourway of Janie Crow's Persian Tiles
But please do remember you still need the Persian Tiles pattern for the instructions how to crochet the motifs as my booklet lists only  the colours  used round by round for each of the motifs in the blanket , plus the joining and border colours.
this is the link to Janie Crow's persian tiles pattern if you do not have it already.
https://www.ravelry.com/patterns/library/persian-tile-blanket
So PLEASE Share the news because I am sure there are , out there , many crocheters that have been waiting for the PDF!!
happy crochet,
Lucia xxx
Hi Everyone,
Another sleep before … THE BIG DAY!
I am so excited about this post and  to be able to share my FOLK QUEEN BLANKET , and more so my lovely limited edition PACKS!
As you most likely already know the FOLK QUEEN BLANKET is the result of  a collaboration with my wonderful friend Tinna Þórudóttir Þorvaldar. And it has been an amazing opportunity to design my own colourway for her upcoming QUEEN CAL.
THE QUEEN CAL  ( crochet-a-long) will be available on Tinna's Raverly from the 18th of September, BUT on her RAVERLY ACCOUNT there is already the introduction available so please do check it out!!
The Queen CAL will be hosted in Tinna's  Facebook Group, Tinna's Crochet Club, where you will be able to get lots of support, inspiration and just general good fun! Please join us there!
If you are new to Mosaic Crochet, then I recommend you check out Tinna's YouTube channel where she has various tutorials available.   She will also publish step by step tutorials for the Queen CAL there, once the CAL starts!
I am going to give you some more details about my version: and  I made a little video  about too that you can watch here:
So let's list some facts…
I called my version THE  FOLK QUEEN  because the inspiration has been Northern traditional national costumes and landscapes a tribute to Tinna's Nordic Heritage and mine too , as I come, originally , from a small village in Northen Italy .
You can get a pack ( kit)  to make The Folk Queen Blanket  EXCLUSIVELY FROM MY WEBSITE, no other retailer either brick and mortar or on-line  sells   this version .
What you get in the pack?
17 BALLS OF YARN   : A mixture of Stylecraft LIFE DK  ( 100gr balls ) and Stylecraft BATIK DK  (50gr.balls) .Both yarn are a  blend of  75%premium acrilic and 25% wool.

A  personalised wooden tag with engraved 'THE FOLK QUEEN' that you can sew in your blanket once it is finished.

A print out with details and Tips about my version and a list row-by-row of the colours used in the same order as they are worked following the Charts provided in Tinna's Pattern.
If you have read Tinna's intro to the CAL you already know that there are several sizes and vesions to choose from:
For THE FOLK QUEEN I used the charts for:
TRADITIONAL STYLE QUEEN, the SMALL HORIZONTAL version.
My blanket measures ,once blocked,  105 cm x 135cm so a lovely throw size that you can see in full details in this video:
The PACK RETAILS  at  £62.99  here…  plus shipping costs which are listed too.
PLEASE DO READ THE CONDITIONS BEFORE YOU MAKE YOUR PURCHASE.
I can't tell you how excited I am about been able to offer my version in a PACK! And if you purchase one of my packs I can't thank you enough for your support!
There are 50 packs available on my shop on MONDAY 17th AUGUST at 10:00 am UK time.
Happy Crocheting
lots of love
Lucia x
The PEACHY PETALS a new blanket…
After some silence I got a new blanket for you!
The time in lock down has given me the opportunity to reflect on what 's really important to me and it has been a time to re-evaluate priorities and to think about resetting goals for the future.
This doesn't apply just to crochet but also to my life in general.
Crochet has played, without exaggeration, a vital role in these past few months, it has entertained me, distracted and brought some well needed focus.
I crocheted a lot, I made several samples, but mainly I focused on two new blankets.
One is a collaboration project with my friend Tinna Porudottir Porvaldar ( but I will write about all of that in my next entry…)  and the other is PEACHY PETALS !!
Over these past months I have been looking into my work and what I like about designing.
And I think I am a bit of an 'odd ball' ( no surprise in that…)
I don't know how other designers work but for me every blanket is a long journey, it takes a lot of energy and time to come up with a concept or something that I think is new or interesting… so you will wonder why do I do it?
Because I love it! I love the excitement of starting something new, I like making samples,  choosing and tweaking the motif ,and at the same time my favourite part… picking the colours and fibres.
So the Peachy Petals is the result of all the above and several months of work.
Let's start from the name.. why Peachy Petals….
'Petal' in Scotland is an old fashioned term of endearment, I heard Glen, my daughter Olympia's boyfriend, calling her petal once, on a car journey, and the combination of the Scottish brogue plus the actual word made me smile ( don't ask me why, it just did! ) , she is a bit of a petal after all!
And peach is her favourite colour… so there we go, a blanket came in my mind to emulate who Olympia is .. a lovely soft sweet girl that always smiles.
I wanted warm, light suffuse hues to emulate her character hence why the Peachy Petal is very different from my much bolder style!
So could I create something that is not so familiar to me? The answer is yes, as I do love a challenge.
Then came the practicality..how can I create something with tonal and subtle hues that is pleasing and interesting  without using a ridiculous amount of different yarns and costing a fortune?
The secret is mixing…
I started with a colour "Blooming Dahlia" or Pantone 15-1520
then I made a mood board of basic tonal palette inspired by interiors .It came apparent that the most important thing  to create a well balanced project while using several variations of the same colour.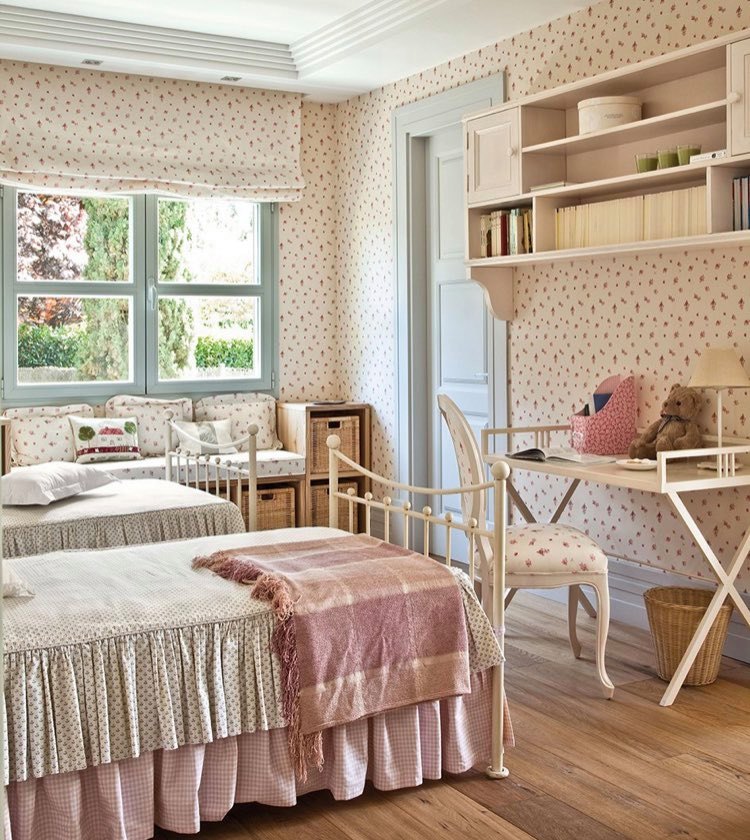 The aim of this blanket was to use natural fibres and to create an array of tonal suffuse pale hues without using a lot of different colours and making the blanket prohibitively expensive!
I am very aware of the cost impact on my projects and I strive to offer projects that are beautiful but cost effective .
I think the combination of a mercerised cotton like Muskat and the Mohair silk yarn is a fabulous way to achieve the above.
The Mohair works beautifully in combination with the silkiness of the mercerised cotton and create not only subdued variations in colour but also gives a beautiful soft halo to the blanket. and… they work perfectly together, no knots, no tangles.
I have also added to the pattern  a bonus version of the blanket ,made by one of my testers , Susan Cox.
Susan sent me this lovely picture of her blanket that she called  'SPRING PETALS' .
She  made her blanket in 100% cotton too but without Mohair. and she also crocheted a lovely cushion made with a combination of cotton and mohair.Am I not a lucky girl to have such lovely ladies helping me?
My testers Janet and Julie tested the motif and Maggie  draw a chart of the motif that I added to the pattern.
The pattern has also all the details on how to use the different yarns and the placements for each of the 96 motifs in the blanket, plus all the stats for Susan's version.  I think it is a lovely variation to the pattern and I hope it will give you the confidence to use this versatile pattern with the colours of your choice.
You can download the  pattern  either from here  or from Raverly
So THANK YOU Susan for sharing your project, and Maggie Bullock for the motif's chart.
LasT but not least you can get all the yarn for the blanket from the Woolwarehouse just press the icon , they have just started to send yarn internationally again after teh lockdown and  the MUSKAT is on sale at 40% less until the end of JULY !!!!
So I hope you will give my new blanket a go !
Happy crocheting,
Lucia
If someone had told me last Christmas , that the world was going to change and I would spend the best part of the new year in lockdown in my home and scamper trying to rally all my children back I would first thought you have been watching far too many sci-fi movies .
Travel bans and self-quarantines across the globe have led to 'U-turns' and majour change of plans…
Today I should be packing ready to leave and spend a few weeks with my family in Italy , instead my flight has been cancelled and I am going no where…What I found more frightening is not the disruption of my plans but the fact that even visiting your parents is an impossible idea.
So while spending another week under lockdown, myself as many of you all over the world are looking cautiously and hopefully to better times.
So what is the best way to focus on positive thoughts?
Making something that remind you of happier and better times!
That is the thought behind my TYROLEAN TABLE SET.
As few of you know I come from a small village in Northen Italy and I love the Dolomites. I am so lucky that I had the opportunity to spend  weekends and long holidays on the most amazing beautiful mountains since I was a little girl and now my children are enjoying visiting the same village as I did.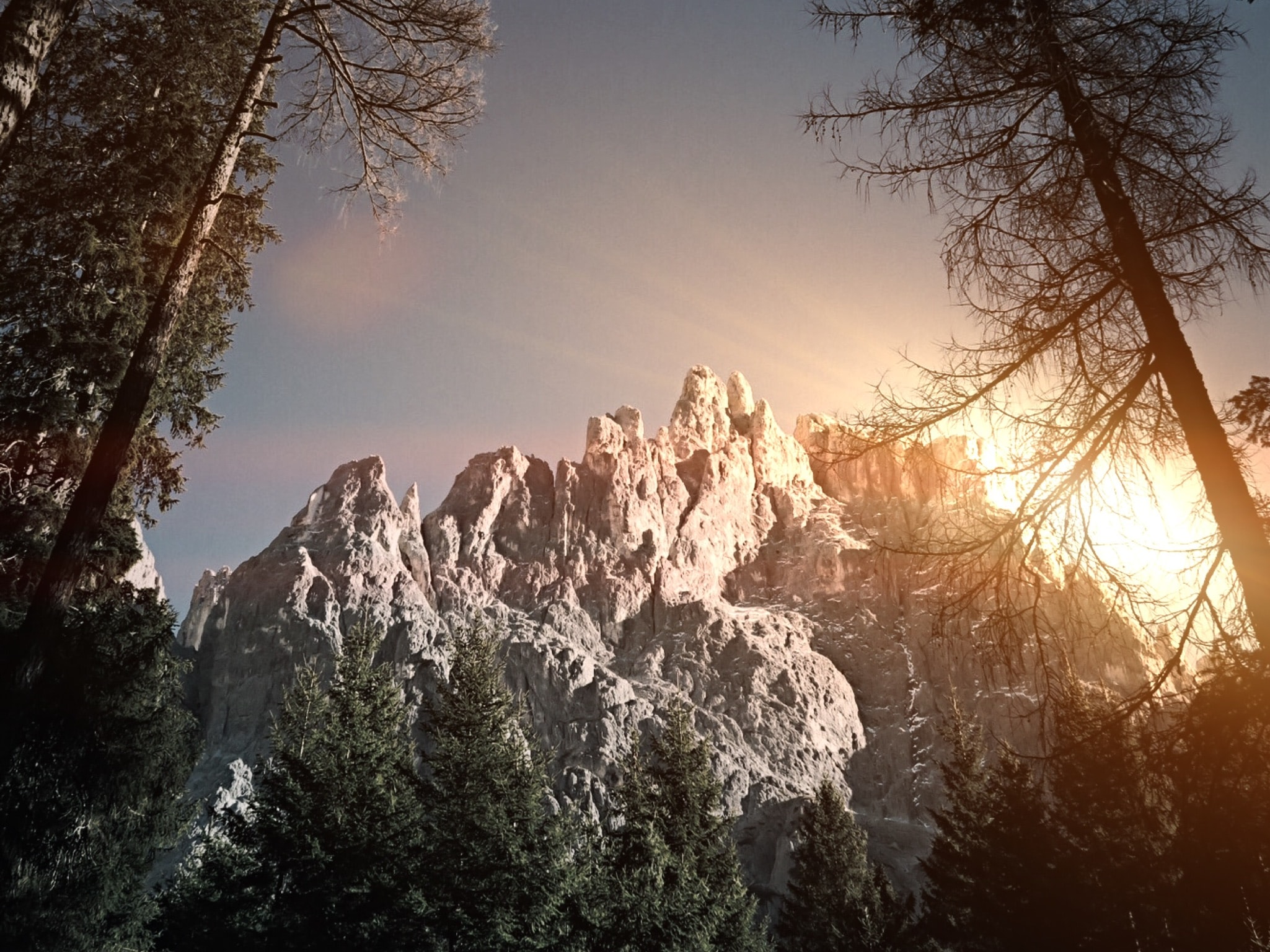 [email protected] pietropoli
I love everything of the landscape of South Tyrol  the picture perfect villages, the fresh air, the majestic mountains, the trees,the food and …obviously the textiles.
[email protected] patrick baum
The Tyrolean region  has an amazing tradition of beautiful fabric, natural materials, yarn and garments.
One of my favourite garment of the Alps is the Dirndl. My girls ,over the years, have enjoyed wearing this beautiful  folk costume and  traditional dress for women and girls in the Alps.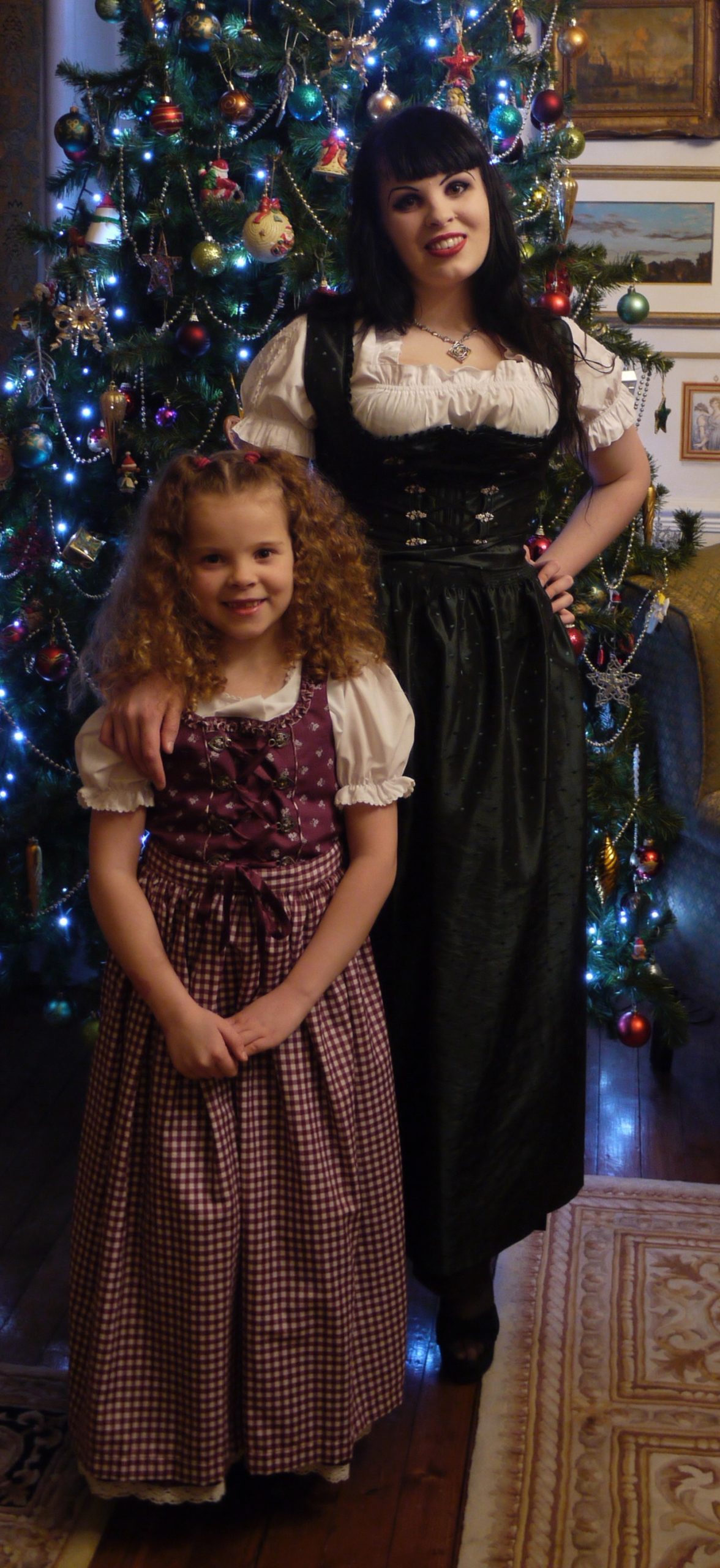 With a lot of colours and textures in mind I created this new project and ,if you want to make something that is not too challenging or time consuming , a little project to enjoying between other works in progress, or a quick present to give to a loved one I think the TYROLEAN TABLE SET is a great option.
The pattern has written instructions and there are charts for both place-mat and coaster.
I used Drops Muscat dk, a 100% mercerised cotton yarn, the quantities are specified in grams and there are 3 different colours options
You can find your yarn here:
WOOL WAREHOUSE DROPS MUSCAT LINK
With a dk yarn the place-mat measures 39 cm/15.5 inches  in diameter and the coaster measures 12 cm/5inches.
All the best to You all out there, stay safe and keep crocheting!
love,
Lucia
Hello Everyone,
I hope this entry will find you all well despite the current situation. We are living unprecedented times and those past few weeks have been, certainly for me, a bit of a challenge, as I said in my previous entry.
So to keep my mind off it I have done a fair amount of crochet!
I have a couple of projects in the pipeline, one lovely new blanket that I am very excited about it  called 'Peachy Petals' which, as I am writing, is getting tested and my newest finished project:
The Tobermory Blanket.
I wanted to make something bright, warm and not too challenging to enjoy crocheting while chatting and spending time with the family and an opportunity to test some 100 % wool yarn. I also made a couple of videos on my Youtube channel in tandem with the pattern to give you a visual aid on the process behind creating a pattern. If you haven't seen them please do, they might be of interest to you and if you subscribe to my Channel it is an extra bonus for me!
Anyway, back to the Tobermory…This Blanket is another chapter of my life in Scotland.
I have been here for nearly 30 years! and I am so lucky because this country has welcomed me with open arms and I have always felt as if I truly belong in Scotland and now it is, with no doubt. my home.
When I arrived, all those years ago, I thought I could speak English, but on my first cab ride upon arriving, when 'I coudnae understand a wee word from ma  Glesga cabby mooth'…I realised I had to do some serious homework!
In these years I have grown used to be called anything like; love, pet, petal, lass and even hen!
Despite this, I am consistently amazed by this great country that cannot be beaten for beauty, history and it's wonderful people.
The inspiration for this blanket is a small fishing port, 2 hours north-west of  Glasgow on the island of Mull called Tobermory, famous for the brightly painted buildings along the main street on the pier-side. The village is etched in my mind, I remember visiting a few years ago and thought that the combination of the buildings' vivid bright colours in the Scottish light was beautiful and completely unexpected!
So while I wish I could make the journey and take the Tobermory to the source of inspiration, I have to opt for some pictures in my garden instead and wait for better times!
The square is not complex at all and is suitable for enthusiastic beginners.
I love the 3D effects of the popcorns! They create a beautiful visual geometry that makes the blanket appealing to the eye.
It is a big girl!  210cm x 140cm perfect for two people to snuggle under on a sofa and big enough for the bottom of a double bed as a gorgeous warm big runner!
As I wanted something cuddly and warm, after a few considerations I opted for DROPS Yarns  KARISMA. It is a  100% wool, DK (double knitting ),4 strands sport yarn which give a great stitch definition and it is superwash treated, which means that it is machine washable and perfect for daily use.
Once washed it is soft and comfortable to the skin.
This particular range has been on the Scandinavian market since the 80s! It is well tested indeed!
That being said, I always like to do my own testing. Hence why I bought (and I stress on the 'bought' because that makes my review completely unbias) one ball of each of the 48 shades so to make my mind about the colours/quality and I made several samples that I have washed and blocked to make sure it was good enough to recommend to you.
I bought my yarn from the Wool Warehouse.
The price is very reasonable too which is an important factor especially because a blanket requires a substantial amount of yarn, and as many of you are not in the UK, it is Oeko-Tex® certified, made in the EU and widely available internationally.
I am also aware that some of you can not source yarn at the moment due to the situation, hence why, in the pattern,  I have added the quantity used for each round of the square so to give you an approximate idea on how much yarn is required.
The colours are easy to be replaced with something similar so you can use either your favourite brand or something you already you have at home.
So, here you have a blanket full of colours, which I hope you will have as much fun making it as I did in creating it!
Stay safe and Happy crocheting,
Lucia xx
Hi Everyone,
Well two posts in the space of a few days.. things are indeed changing…
I normally stay clear from talking about myself or my life and I focus on general topics or a crochet project, mainly because I do not think my life is so eventful to be worth it sharing but I am going to make an exception with this post.
I still find quite surreal what is going on around me at the moment but I guess I am not alone in my bewilderment.
By last Thursday the adrenaline that fuelled me over the mad rush to try to sort out as much as possible before the lock down dwindled to fumes, and I suddenly got hit by the enormity of the situation not only for me and my family but for the entire human race. That subsequently morphed into an overwhelming anxiety based on  tsunami of "what if…" dreadful scenarios.
I was so engulfed by the all thing that I couldn't even pick up my hook and work on something.
I just went to my bed…
then, as I couldn't sleep, I picked up my phone, which normally I NEVER do, as all Electronic devices are banned , in purpose,from my bedroom, but in these past few weeks I made an exception  and kept it by my bedside just in case I end up missing  a call from my parents or my brother in Italy…
Any way, I am scrolling  down my messages and I see one from Tinna .
I post a screen-shot for you…
So I  downloaded the pdf expecting the new pattern we had chatted about while she was here instead there is something new: the Coorie shawl…
and I am like awww a Scottish inspired pattern, so nice of her…
then I read the introduction and I started to cry…
What can I say?
Serendipity…things happen to you when you most need them!
I am posting the introduction here, but, please ,forgive me if it might seems a bit self indulgent.
I assure you that it is not the reason why I am posting it at all.
I am sharing it with you because those lines encompass all what I love about crochet!
Crochet is about feeling good ,enjoying the craft, it is about friendship,gifting, sharing, exchanging. Crochet is about hard work behind the scenes, it is about an overwhelming addiction to yarn, but what Crochet is for me is people!!
Please do not get me wrong, it is not all pretty rainbows and fluffy clouds,
more you share more you put yourself out there .
Bigger is your presence on line bigger isyour exposure to all sort, and you do encounter some unpleasant people which take vantage of you and your craft, but, thank goodness, there aren't so many of them and the overall experience is so worth the effort, the sleepless nights, because the pattern is not right, the frustration with technology, the worries, the lack of time and more so the going back and start again…
The magical bit happens when, in your journey, you stumble in someone very special indeed.. and you find out that besides crochet you got loads of other things in common!
So when I picked up Tinna at the airport that Tuesday it felt like I was picking up a old friend,I opened my home to her and she fitted in like a glove as simple as that and if wasn't for the crochet I will never have met her!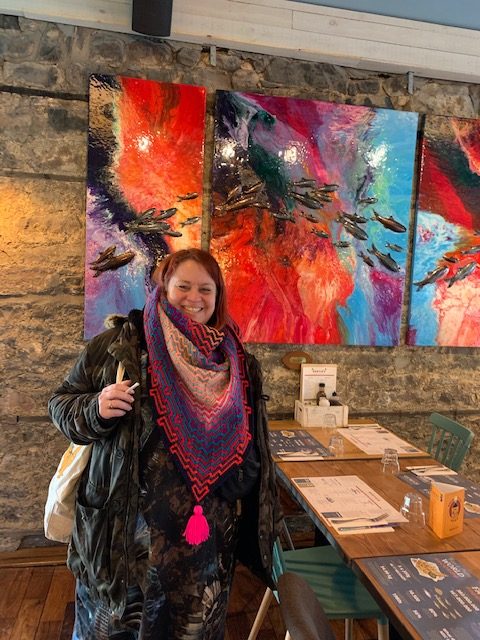 So yesterday I set aside what I was working on, pull out the lovely Icelandic  Plötulopi yarn Tinna brought me and I am making my Coorie, with this lovely surprising light unspun yarn  it will remind me of the lovely time we had together and I cannot wait for the next time we will see each other again.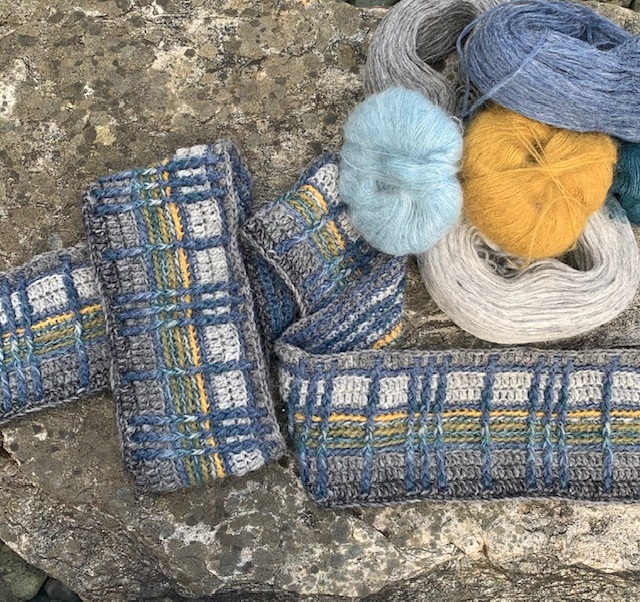 As the real magic in life is just human kindness.
So all the best to you all out there, stay safe
Peace and love,
also  last but not least, if you want to make your COORIE too you can find Tinna's pattern here:
https://www.ravelry.com/patterns/library/coorie-3
LUCIA XXX.
Hello everyone and welcome to my blog once again!
Today I a going to introduce you to my most complex pattern to date…the RISE AND SHINE BLANKET!
The Rise and Shine was designed in 2018 and featured as a CAL (Crochet-along) over 13 issues of a magazine called Crochet Now.
I got the copyrights to the blanket back a few months ago but I didn't have the time to put the file back together and publish it myself until now.
So here she is on all her glory!
The rise and shine was what you could call a "labour of love." It took me ages to come up with the concept and even more time in making endless swatches and samples of each square.
What is the main idea behind it?
I wanted to introduce new techniques and demonstrate how versatile crochet can be, how it opens windows of infinite creativity. Each square teaches you something, it might be a technique, a texture or a lesson in colour. By the end what I hope you will achieve is confidence with different techniques, an idea of how colours work and the importance of texture.
The blanket also tells a story, a story about things I like , places where I have been ,and images or colours that intrigue me.
I am not going to go through every single square but I am going to give you some examples, simply because if I show you what thought process behind it you can make your "own" blanket too with your memories, your stories and your experiences!
So lets have a look at this blanket…
There are 24 squares, the pattern is arranged in a scale from easy to complex..again because it is a journey… Each  focuses on either a technique, texture or colour. The squares are all the same size and you can place them as you like! You do not need to follow my scheme either. If there is a square you do not like or you find really challenging please do not be discouraged or frustrated! The aim of the project ultimately is to be FUN!! So lets not forget that…
I designed a grid with the placement of every square.
And , as said, in the pattern the squares are organized from easy to complex.
Because I mentioned stories and thoughts behind the squares I am going to show you what I mean with a couple of examples
Let's have a closer look to a simple square like the PUFF SQUARE ( which is square 17 in the grid)
This square is all about texture and a warm muted shade: Shrimp.
I love this colour very much because it reminds me of Venice where I studied architecture for 7 years, it reminds me of the palaces and the light of the city and I feel there is a lot of energy in this beautiful muted Mediterranean colour.
Shrimp goes beautifully with stronger hues like reds, greens, and mustards, it balances them and adds warmth and that is why I used it in the blanket.
In fact, when choosing colours and textures to put together in a design scheme, that not only looks but also feel good, you must be aware of the importance of how the colours interact with each other's and how texture is another factor that can influence the tone and the colours.
Ok, we covered colour… let's now cover interests, things that fascinate you also how to make a mood board…
The  MERMAID SQUARE
I think I have been fascinated by Mermaids since I can remember hence why I HAD to add them too in some form to the blanket.
I love this mythological creature not only their colours, the myriads of ever-changing greens, turquoises, blues, but also what I find really fascinating about mermaids is that to me they represent the ultimate freedom.
They are death and birth when they shed their skin to come ashore, they are contradictory beautiful and deadly, a true personification of the unpredictability of the oceans. They are strong and free, they are smart and adaptable and they can swim anywhere and do whatever they want… and I bet, sometimes we all wish we could do the same!
Last but not least let me introduce you to "mood-boarding" with a couple of more examples
Mood-boarding is a fantastic tool not only to colour's coordinate, but also to add something special to your project.  I called them visual chronicles.
The idea is to show ordinary objects of everyday life can inspire you in your projects and also my point is to use stuff that any of you can find in your house, nothing is bought in purpose it is all about finding inspiration on the ordinary, just a way to stimulate creativity.
The MANDALA SQUARE
It is very simple, all you have to do is to take a 60 cm square space, I used a large tile I found in the office, but even cardboard will do, and position little things that you found or bought, objects you have collected, colours that trigger happy memory even a juicy apple will do! the key is that the objects are connected to a happy memory, like a lovely walk in the countryside, or a trip with your loved ones.
The purpose of the board is to replicate the feeling and the memory of that day. There is not a right way or a wrong way, just play with the objects, when you have done take a picture and, if you like, start again changing places or adding bits and pieces until you are happy.
Here is my mood board that inspired my mandala square, it is a trip to Spain we did with the children a few years ago, so there is one of those little silly dolls that I bet you all have in the back of a drawer.. happy sunny colours, a hippy holidays' crochet bag, some blue fabric that reminds me of the sea, a flower, and even a little tin of paprika.
So give it a go, it is really easy and will make your projects very special as you are crocheting memories.
I really hope you like my Blanket.. the pattern is available both on Raverly and here on my shop.
I also have arranged a pack being made for you from the Woolwarehouse.
Rise and Shine Woolwearhouse Yarn Pack
All the best to you all
Lucia xx
HELLO EVERYONE!
gosh, it has been such a long time… I got carried away but so many things that I have neglected my blog! So |I will rectify this and make sure I write more blog's entries because I  have been missing this platform .. so let's start the new year with a new project! My first project for 2020 is the Peerie Blooms blanket. I made the blanket in collaboration with Stylecraft Yarns as
my contribution to the new Blogstar's MAL program. It is a perfect opportunity to use some of Stylecraft's new colours that have been recently added to their Special Range in Aran and Chunky weight.
As you all know the majority of my projects are done with DK yarn so the challenge has been using an Aran weight and a relatively small colour palette! I wanted to create an easy-to-crochet project, with a simple and uncomplicated square quick to make with the Aran yarn, a great way for beginners to experiment with colours and textures a blanket for the ones of you that don't have much time or want an 'in-between' projects to enjoy on the go or as a break from more complex patterns or while socializing, travelling or watching TV !!

Did I cover all the possibilities and full-fill the challenge? I hope I have! The name Peerie means small in Scottish and that is what this blanket is all about.. a razzmatazz of little three-dimensional flowers in a vibrant meadow full of colours.  There are 99 squares organised in 4 colours combinations and arranged as a Tartan fabric, again a homage to Scotland, my adoptive home that I love so much. As I want EVERYONE to be able to make my blanket, regardless of their abilities or native language, the pattern includes charts of the motif, the joining method and the border.
I also have uploaded, on my youtube channel, my first video of how to make the Peerie Blooms square. In the next few days, I will upload the joining method too.
The pattern contains the instruction for a bonus blanket made by one of my testers , Susan Cox. It is a smaller version, perfect for a baby blanket or a little lapghan made with Stylecraft BELLISSIMA  and BAMBINO
YOU CAN BUY YOUR PACK OF YARN CLICK THE LINK BELOW
Peerie Blooms Blanket – Wool Warehouse Pack
FOR THE PATTERN HERE IS THE LINK BELOW
So this year is all about embracing technology!
I will make more videos and I hope you will follow my Youtube channel and help me with your comment in making my patterns better and better.
I really hope you will give the |Peerie Blooms a go! So pick up your crochet and join
us in the fun!
Lucia xx
I can not believe we are already in February!
Normally January drags a bit on for me but this year has definitely not been the case.
I guess I have been very busy with work and with "non-crochet "related stuff but I still managed to add a border and finish the blanket.
Today I can give you the last pieces of information so, if you like, you can finish your blanket in the same way.
About the border, I am going to digress a little bit and give you some thoughts.
I personally love borders very much especially if they are big and bold!
That works even better if you have a simple pattern throughout the main body of the blanket as we have in this case. Maybe my propensity for statements borders is due to the fact that my first attempts on crochet, many years ago, were cotton's tread fancy borders for linen towels!
If you are Italian or Spanish or just Mediterranean in general you might are very familiar with them.
another picture this time from the oldest and most famous creative magazine in italy called "Mani di fata" which translate very appropriately in "Faerie hands" !!
It used to be a great test for beginners to master crochet without embarking in something too challenging or time-consuming, even if, I have to admit, it still took a fair amount of time to make them as the cotton yarn was at least a 4ply but often much thinner than that.
I have a few stashed in a drawer somewhere in the house, I use them seldom as they are delicate and definitely not tumble-driers proof!!!
If bold and big is not your style, it doesn't matter as a ripple pattern can look just beautiful as it is! the little scallop at the top and end can be left as it is and still look fabulous so do not panic if you cannot be bothered doing the border your blanket will still look lovely. Just surf the internet or Pinterest for inspirations, and remember it is YOUR blanket so don't be afraid to go off-piste! actually, I love if you go off-piste and you put your input! it makes your blanket more personal.
Back to what I have done… some pictures to start with:
In my case, I filled the ripple because I prefer straight edges especially if you are opting for a more challenging border.
I draw the distribution of the "filling" stitches for the top and bottom of the blanket.
I started my foundation round with the Pistachio on the corner ( now you can see why it is good to start and finish the blanket with the same colour. it brings continuity on your foundation  round, which means when you start the next round of the border with a contrasting colour ( in my case is the claret) you have a solid even base to work with)
on the side I worked 2 dc in the space created by each tr at the beginning and end of each round .
I have in my case 195 stitched in each of the vertical sides of the blanket and 114 on each of the horizontal for the 4 corners we have :(1dc-ch1-1dc) repeated 4 times.
so the foundation round is made of (1dc-2ch-1dc)+ 114 +(1dc-2ch-1dc)+195+ (1dc-2ch-1dc)+114+(1dc-2ch-1dc)+195.
the border is done with Claret and a 3.5 hook
I have chosen for the border  again a diagram I found on Pinterest this is a picture of it. I made some minor adjustments to the last couple of rounds to simplify it mainly because the pattern is written for a cotton thread and not DK yarn.
Ther repeat of the pattern is on a multiple of 10 so on my first round of claret I added 4 stitches in the each of the short sides and 3 on each of the long sides.
If you use another pattern for the border please consider adjusting the number of the stitches according to the repeat!
I posted a couple of close-up so you can see better how the pattern develops. It has a fair amount of rounds but it is pretty fast.
my last round is a contrasting one done in Fuchsia purple.
YARN QUANTITIES USED for the border:
for the Filling round and foundation, I used 35 grams of  PISTACHIO
for the BORDER:
ROUND 1 TO 7 : I used  150 grams of CLARET
ROUND 8 : I used 30 grams of  FUCHSIA PURPLE
last but not least….
I have been asked if I can transcribe the diagrams into words…. I know for many of you it is easier to use written instructions but I wish you tried ( NEW YEAR'S RESOLUTION !!!) to use a diagram!! It will open you amazing opportunities! this blanket, in particular, has such an easy diagram so please give it a try trust me you will never look back! there are loads of tutorial on you tube to learn how to read a diagram, do have a look and see which one suits you better.
love to you all…
I have something new I am working on so I will post again very soon,
lucia xx