Hi Everyone,
Well two posts in the space of a few days.. things are indeed changing…
I normally stay clear from talking about myself or my life and I focus on general topics or a crochet project, mainly because I do not think my life is so eventful to be worth it sharing but I am going to make an exception with this post.
I still find quite surreal what is going on around me at the moment but I guess I am not alone in my bewilderment.
By last Thursday the adrenaline that fuelled me over the mad rush to try to sort out as much as possible before the lock down dwindled to fumes, and I suddenly got hit by the enormity of the situation not only for me and my family but for the entire human race. That subsequently morphed into an overwhelming anxiety based on  tsunami of "what if…" dreadful scenarios.
I was so engulfed by the all thing that I couldn't even pick up my hook and work on something.
I just went to my bed…
then, as I couldn't sleep, I picked up my phone, which normally I NEVER do, as all Electronic devices are banned , in purpose,from my bedroom, but in these past few weeks I made an exception  and kept it by my bedside just in case I end up missing  a call from my parents or my brother in Italy…
Any way, I am scrolling  down my messages and I see one from Tinna .
I post a screen-shot for you…
So I  downloaded the pdf expecting the new pattern we had chatted about while she was here instead there is something new: the Coorie shawl…
and I am like awww a Scottish inspired pattern, so nice of her…
then I read the introduction and I started to cry…
What can I say?
Serendipity…things happen to you when you most need them!
I am posting the introduction here, but, please ,forgive me if it might seems a bit self indulgent.
I assure you that it is not the reason why I am posting it at all.
I am sharing it with you because those lines encompass all what I love about crochet!
Crochet is about feeling good ,enjoying the craft, it is about friendship,gifting, sharing, exchanging. Crochet is about hard work behind the scenes, it is about an overwhelming addiction to yarn, but what Crochet is for me is people!!
Please do not get me wrong, it is not all pretty rainbows and fluffy clouds,
more you share more you put yourself out there .
Bigger is your presence on line bigger isyour exposure to all sort, and you do encounter some unpleasant people which take vantage of you and your craft, but, thank goodness, there aren't so many of them and the overall experience is so worth the effort, the sleepless nights, because the pattern is not right, the frustration with technology, the worries, the lack of time and more so the going back and start again…
The magical bit happens when, in your journey, you stumble in someone very special indeed.. and you find out that besides crochet you got loads of other things in common!
So when I picked up Tinna at the airport that Tuesday it felt like I was picking up a old friend,I opened my home to her and she fitted in like a glove as simple as that and if wasn't for the crochet I will never have met her!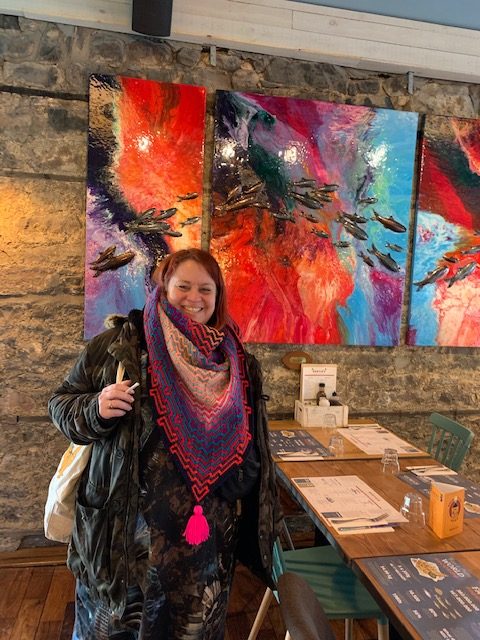 So yesterday I set aside what I was working on, pull out the lovely Icelandic  Plötulopi yarn Tinna brought me and I am making my Coorie, with this lovely surprising light unspun yarn  it will remind me of the lovely time we had together and I cannot wait for the next time we will see each other again.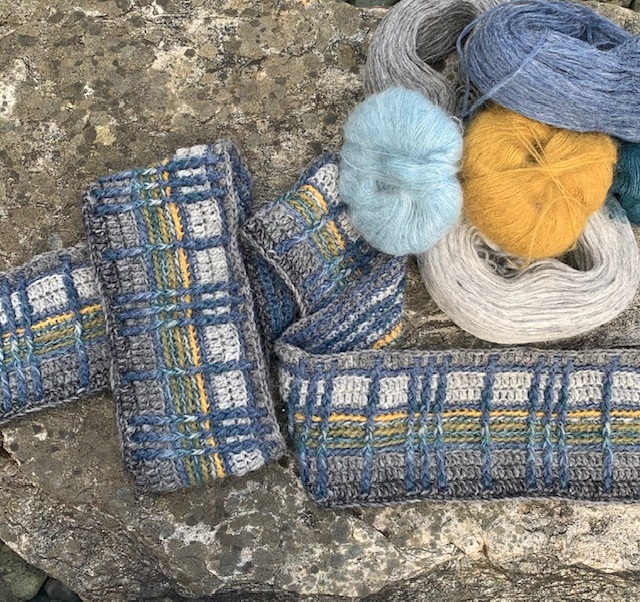 As the real magic in life is just human kindness.
So all the best to you all out there, stay safe
Peace and love,
also  last but not least, if you want to make your COORIE too you can find Tinna's pattern here:
https://www.ravelry.com/patterns/library/coorie-3
LUCIA XXX.